You approach him slowly. "What's wrong? You're upset."

When Lionel turns towards you, there's fire in his eyes. He punches the wall again. "Of course I'm upset. You could have been killed!"

You gently stroke his arms, admiring the power of his biceps and trying to bring him comfort. "But I'm not dead. We're both okay."

He grasps your arms. You gasp in shock, as he pushes you against the wall and towers over you. He's staring into your eyes, his expression so intense, you're terrified to look away. You've never seen him like this before. Your heart is pounding as he pins you.

"You don't get it," he shouts. "This attack was exactly what I was afraid of happening. You don't get how much I care about you-how much I worry for you every day."

His face is so close that his full lips are inches away from yours. You know that you need to reply to what he is saying, but all you can think about is kissing him.

"I needed to do this," you manage to say. "I needed to be here. You didn't have to come along."

"Yes, I did." He sighs. "I don't know if you'll ever understand why."

Powered by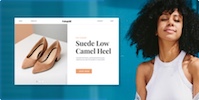 Create your own unique website with customizable templates.