You approach Lionel slowly. "Let me look at your wound."

"I'll be fine," he replies. "My paladin abilities will allow me to heal faster. You can't help me with dark magic."

It's true. Dark magic is great at injuring, but terrible at healing. You have nothing to clean his wound with and no bandages, but you still want to take a look at it. His face is scrunched together like he's in a lot of pain. Maybe you could tear off a piece of his shirt to use as a bandage, if he agrees to it, to help keep the wound clean.

As you near him, you can see that the edges of his wound are blistered. The paladins magic not only sliced through him, but it burnt him. You don't know how paladins can think that power as destructive as this is holy.

You gently touch the wound with one finger. He cries out in pain and yanks his shoulder away from you, his back still facing you.

"I told you not to bother with it." His voice is low and almost emotionless. Somehow that scares you more than if he sounded angry. "You don't listen to me. You never listen to me."

"I listen to you just fine-" you begin to say, but he interrupts you.

"No." He whirls around and grasps you by both of your arms before pinning you to the wall. He's towering over you and staring at you with the eyes of a madman. "You don't get it! You could have been killed. You went out here alone and you didn't tell me you were going to do so because you knew I would object to it and you didn't want to hear my objections. My shoulder doesn't matter. This is about you and the way you torture me every day with worry. I can't take it anymore."

His face is so close that his full lips are inches away from yours. You know that you need to reply to what he is saying, but all you can think about is kissing him.

"I needed to do this," you manage to say. "I needed to be here. You didn't have to come along."

"Yes, I did." He sighs. "I don't know if you'll ever understand why."

Powered by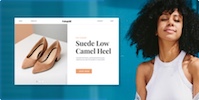 Create your own unique website with customizable templates.