"What do you mean?" you ask. "What are you trying to tell me?"

"I'm in love with you," Lionel says. "I know you don't want to hear this kind of thing right now, I know you're hurting over another man, but I had to be honest with you."

You take a step towards him. Your whole body is shaking with disbelief and excitement. You can't believe this is real. You've been dreaming about this kind of thing happening for so long.

"How can you be so blind?" you ask. "I came to this place for you. I'm in love with you, too. I thought you only saw me as a friend. I knew we could never be together, so I only went to search for this stone because I was trying to forget you."

He blinks several times in disbelief before running to you and pulling you close. There's fire in his eyes and he's gazing at you like you're the most beautiful woman in the world. You feel light-headed, like none of this is real.

"I've been trying to be good enough for you for years," Lionel whispers. "I became a paladin hoping you'd see me as greater than I am. I didn't think you'd ever say something like this to me."

Powered by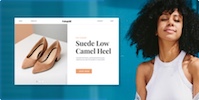 Create your own unique website with customizable templates.