"You wanted to impress me?" you say. "Does that mean that this woman who hurt you is me? Can't you see how you are my whole world? Can't you see how I think about you every day and do everything for you? You're the reason I'm on this trip. You're the man who broke my heart. That's why I couldn't tell you about it. I'm in love with you."

You're afraid he's going to reject you as he blinks several times in disbelief. "So you put yourself in danger today because of me?"

You nod your head and see his full lips pout and strong brow wrinkle in guilt.

"How could I have been blind this entire time?" Lionel asks. "I've caused us both so much torture for no reason."

He runs to you and pulls you close. There's fire in his eyes and he's gazing at you like you're the most beautiful woman in the world. You feel light-headed, like none of this is real. You won't believe it, until he says he loves you, too.

"How can you be in love with me?" Lionel asks. "I've been in love with you for years, dreaming of a moment like this. I've been trying to be good enough for you. I joined the paladins hoping you'd see me as great through them. I didn't think you would ever say something like this to me. I still don't feel I deserve it."

Powered by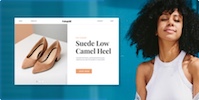 Create your own unique website with customizable templates.