"This way." Lionel calls as he begins to crawl through the hole.

You get on your hands and knees and follow him. The rocks dig into your knees and you're concerned about them possibly slicing through your skin. The deeper you get into this tunnel, the darker it gets. You can barely see your hands moving in front of you as you crawl.

The tunnel narrows. It's so tight that you're wondering how Lionel hasn't gotten stuck. He's so much taller and broader than you are. He keeps moving forward.

"I've found the exit," he calls out excitedly. He then disappears out of the hole as he stands in the room outside.

You force your way through as well, quickly. You don't want to be alone in this place.

The tunnel suddenly widens and you find yourself in pitch blackness. You feel cool air on your face. The sound of whispering echoes all around you. You stand. You're in the room now, but you can't tell where Lionel is. You call his name and hear him call you back, but you can't make sense of what direction his voice is coming from. The echoes are disorienting you.

You panic and try to crouch down to get into the hole again. You feel around the wall, but the hole is gone. Did it close or did you walk away from it somehow?

You get on back your feet and that's when you feel one of them brush past you. It's whispering in another language and its hand brushes against yours. It feels human, but what human could have survived in this place for so long?

More hands brush up against your body. More whispering. In the midst of all of it, you can hear Lionel calling to you again. You don't know what direction, but you know he's close.

To your left, you feel a strong calloused hand that could be his. He does work hard as a paladin, but you can't remember if he had callouses before.

To the right, you feel a hand that is large and masculine. This could be his as well. You've always noticed how small your hands are compared to his, but at the same time something about it feels off. You can't explain what it is.

Which hand do you grab?

Powered by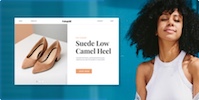 Create your own unique website with customizable templates.