"I don't know if we should go in there," you say. "If you can't see anything, then that means there's no light on the other side. Whatever is in that room could be dangerous and we won't be able to see enough to fight it."

Lionel raises an eyebrow at you. "You're worried about danger now? After all we've been through thus far? You knew this journey would be dangerous before you embarked on it, but now I'm here to help you, so it's safer than it would have been if you were alone."

"Yes," you agree. "But I don't want to take any careless risks if other options are available to us."

Lionel pushes himself off the ground and stands to his full height. You stare up at him. He gently strokes your cheek as he looks into your eyes and you feel like you could melt. "I'd never put your life pointlessly at risk. I can't hear anything breathing or moving on the other side either, so I think it's safe for us. I'm pretty sure the darkness is just an illusion to chase off anyone who is too afraid to risk everything for love. I'd risk anything to make you happy. You knew there would be tests."

You ignore the butterflies his words send through you. "But you can't be sure it's safe..." You meant for that to be more of a question and less of a statement, but it came out differently.

"No, I can't," Lionel admits. "But I'd like to believe that you know me enough by now to trust that I'll always protect you, even when we do come across danger."

Powered by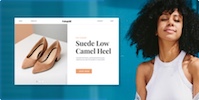 Create your own unique website with customizable templates.