"I know you have the best intentions"-you shiver and wrap your arms around yourself-"But something creeps me out about that room. I can't ignore my instincts."

Lionel nods his head. "I understand. You've always had amazing intuition and your magic only enhances that. Maybe you sense something that I can't see. Let's go back to the entrance and go the other way. But no changing your mind this time."

You laugh. "Okay."

It's a short walk back to the cave entrance. You are faced with a set of two paths again.

Powered by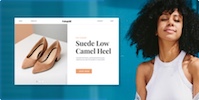 Create your own unique website with customizable templates.