Even though your instincts tell you that the hand to your right is different than Lionel's hand, you ignore the feeling. You're probably just scared and doubting yourself. You know how large and masculine Lionel's hand is. This hand has got to be his.

You grab the hand and pull Lionel close.

Lionel says nothing, but you don't really blame him. The whispering is getting so loud that there's no way the two of you could understand each other anyway. Still, you need to figure out a plan of how to get out of here.

You reach up your free hand and stroke Lionel's face. You want to feel him and reassure yourself that he's next to you. Instead of soft lips, your fingers come into contact with sharp teeth, each one about the size of one of your fingers. You hear Lionel screaming your name in the distance. This thing isn't Lionel, but you can sense it staring at you and smiling.

You pull away from it and kick it as hard as you can. You gather a black thunderbolt in your hands and electrify the monster in front of you. You hear the creature snarling as it flies backwards and then you hear nothing, but gentle whispering again.

You know that your magic can only incapacitate that creature for so long. You need to get out of here. Quickly.

Powered by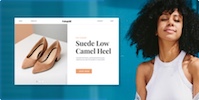 Create your own unique website with customizable templates.