You stand in the middle of the room and close your eyes tightly. Something about this room full of mirrored images is spooking you and you don't want to look at it anymore. When you shut your eyes, you feel calmer. Your instincts are telling you that this is some sort of trick on your sight. You can focus on your other senses to find Lionel as long as your eyes are closed and you aren't being distracted by hundreds of your own reflections.

You reach forward and to your sides as you prepare to walk. Your hands smack against both of the walls next to you and pain ricochets through a couple of your fingers. You open your eyes, shocked that this hallway is narrower than it appeared to be before. Maybe the mirrors were confusing you when your eyes were open and making you think the room was bigger.

You can see, now that your eyes are open, that the entire room does look narrower. You don't know how you missed this before. This is why you can't trust your vision right now.

You shrug and close your eyes again. After reaching forward and to your sides, you reach up to see how much space you have above your head. Your hands scratch the ceiling as you reach up. You open your eyes. You're positive this time that the ceiling used to be taller, especially as you reach up again and are suddenly able to lay your palms flat against the ceiling, instead of just scratching it.

You look around the room. You can see now that the whole place is getting smaller. Your reflections are larger and closer to your face. You are going to be crushed by them!

An image of a man in black with a pale face is reflected quickly in the hundreds of mirrors that surround you. His face is just over your right shoulder. Lionel may not be here, but you're not alone. You see movement and hear heavy breathing behind you as if he is running. You don't know how he could have possibly come from behind you when there's a wall blocking that direction.

He screeches and the sound echos through the cavern, painfully piercing your ear drums. He grabs at you with his claws, tearing at your robes and scratching your dress. He knocks you over when he grabs your leg. You kick towards him, struggling to get away.

The walls are closing in and there's no way out. It's time to run and hope you can somehow make it to safety.

Powered by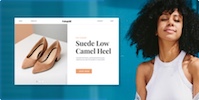 Create your own unique website with customizable templates.