You shove as hard as you can and use the power of your shove to propel yourself out of the man in black's grasp. His claws continue to reach for you, but you are racing forward now, just out of his reach.

As you run, images of the creepy man in black reflect in front of you and to the sides. A part of you fears that you're running towards him rather than away from him because his face keeps getting larger in the reflections every second. You can see him grinning at you now, white fangs hang over his lips. His gaze meets yours every time you see him and there's cruelty reflected in his eyes.

The cave you are in narrows until the ceiling is so short that you must bend over to continue moving and the cave walls squeeze your body tightly together on both sides. You struggle to run, you're moving slowly now. Every sound you make is echoing so loudly in this small place that even your breath is hurting your ears.

You feel someone grabbing you from behind and know that the man in all black is trying to stop you from moving. He wraps his arms around you. You scream in rage at him and go temporarily deaf from the echo, which prevents you from attacking him. You feel disoriented, his hands are everywhere, but somehow you start slipping through his fingers as if you were made of water, all except your leg, which he continues to grasp in your hand. You decide to race forward on your hands and feet as he trails behind you. You shut your eyes, so the confusing reflections stop giving you a headache.

You open your eyes as you come to a stop and see your face right in front of you. You've come to a dead end. You reach out in front to make sure. You feel glass in every direction, trapping you in a small box.

Hands reach out and grasp your shoulders. The man in black's hands start to wrap around your neck, although they don't squeeze yet. You expect that he wants to suffocate you before this tiny mirrored room can.

You scream and your ears ring, completely deafened by the sound. You close your eyes and punch the wall in front of you out of desperation. It makes a weird plunking noise, like it is hollow. Maybe if you hit it hard enough, you can escape. But then again, maybe the man who has grabbed you will kill you before you're able to knock down that wall.

You need to decide fast because your vision is growing blurry and gray.

How do you escape?

Powered by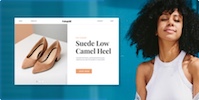 Create your own unique website with customizable templates.