You and Lionel are outnumbered, but these Paladins aren't going to just let the two of you walk away. Attacking quickly will give you a bit of an advantage. You feel the dark energy building up in your fists before you punch forward and release your magic. A black lightning bolt bursts through your knuckles and shoots the paladin straight in the chest. He cries out as he's flung backwards to the ground. If he wasn't wearing armor, he'd be dead, but he's probably just bruised. You whisper curse words under your breath about Paladin protection spells.

You barely register that Lionel is shouting as he tackles you. The wind is knocked out of you as the two of you topple to the ground. You want to yell at him, but you see beams of white light flash in the sky above your head. He saved you from being hit by them. Besides, it's kind of pleasurable to feel his body on top of yours. You can feel every inch of his muscular chest pressed against your soft, feminine one. You'd be okay staying in that position forever if your lives weren't in danger.

But you have no time to think about that. Lionel jumps to his feet and grasps you by the hand. You're barely standing before he draws his sword and parries a blow flung towards him by a paladin's blade. The paladin's are charging towards you now from inside the woods. You use your black lightning to hit the paladin fighting Lionel. He's knocked off his feet. Your hand stings a little from the spell ricocheting off of him and back to you. You're not used to casting spells this close.

"We're not going to be able to keep this up," Lionel says. "There's too many of them." He knocks the sword of the next paladin that approaches you out of his hand and punches another one in the face and stomach.

You see more paladins pouring from the woods towards you two.

Powered by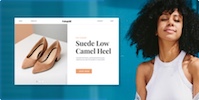 Create your own unique website with customizable templates.