"You don't understand, though," you say into your phone. "No one is going to believe that Lucas and I are a couple. We don't get along at all. We barely tolerate each other."

"-And yet you are able to successfully act like you are in love in a movie." Her voice sounds sing songy. She laughs. "If you can do it for the movie, you can do it in real life. Besides, passion is all you need to fake a romance. There's a type of passion in anger, you just need to channel it in the right direction."

You grip your hair with your free hand in frustration. "You don't understand. It's not just a difference of opinions between us. There's just something fundamentally about him that I can't stand. He's the opposite of me. I worked hard to get here and he takes for granted every privilege he has been given. If he was anyone else and we weren't able to sell tickets just using his name alone, he would have been kicked off of the movie by now because of his partying and lateness. You know I'm always on time. You know how much I've given up for this job. You know how much I hate people like that."

Claudia takes a deep breath. "Yes, honey, and that's why you're my star, but you can't let people like that drag you down in this industry. There's an abundance of them and they'll all be gone the second people stop caring about them, but until then, you have to play nice or they could destroy you and all that hard work will be for nothing."

You know that so many people wish that they could have your job, wish they could wear expensive dresses, go to fancy parties, and mingle with beautiful people. Lots of sacrifices have to be made in order to keep this job. You haven't eaten bread in two weeks, which has been awful, but you're doing it to look good for your bikini scene and you run miles on your treadmill every day.

You saw your Mom make these same sacrifices, sometimes even sacrificing time with you, in order to have this sought after job, so the two of you could have money and live a comfortable life.

You remember before she became an actress, back when she wasn't even nineteen years old, you were just a toddler, and the two of you had to live on the streets. You wished you were like most people and couldn't remember being that young. You remember how hungry, how dirty, how scared you were every day. You remember the way people stared at you like you were a worm beneath their feet.

You spend a lot of time hungry now through dieting, but at least now it has a purpose. At least now people look up to you. At least now you are always safe and have body guards on call if needed.

Your Mom is the reason you were able to break into this industry and you refuse to let anything in your life destroy that opportunity.

You sigh, defeated, and close your eyes. "I guess I'll play along, but you owe me."

"That's my girl," Claudia exclaims and the two of you hang up your phones.

-CLICK HERE TO CONTINUE-PG. 4

Powered by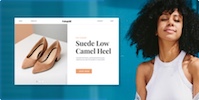 Create your own unique website with customizable templates.